Presents
Puppies
Yes our latest litter was BORN 19th Dec 2018 - all pups now sold as shown below, our next litter is yet to be confirmed or mated
Photos below - people are welcome to book a time to visit
Parents of this litter are :-
Sire- TBA
Dam TBA
Photos are posted below of those for sale - where visits or deposits can be arranged if you email or express an interest.
Should you wish to secure a pup please contact us ASAP - we also do free deliveries to Sydney area, we also have experience in sending puppies all around Australia.
Pups available for sale are shown below:-
Boy 1 - black spotted below (SOLD)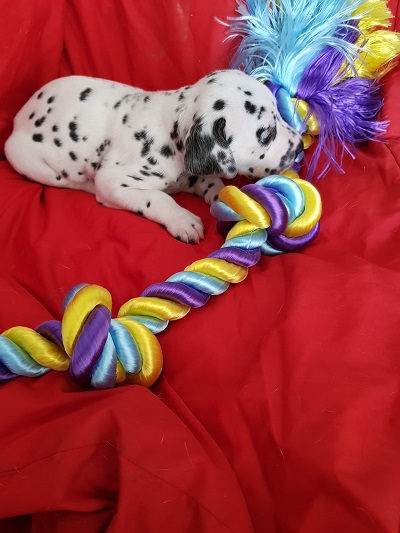 Boy 2 - liver spotted below (SOLD)
Girl 1 - Liver spotted below (SOLD)
Girl 2 - Liver spotted below (SOLD)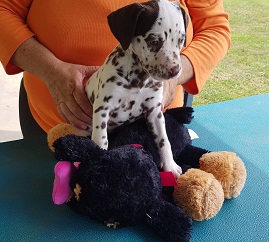 Girl 3 - black spotted below (SOLD)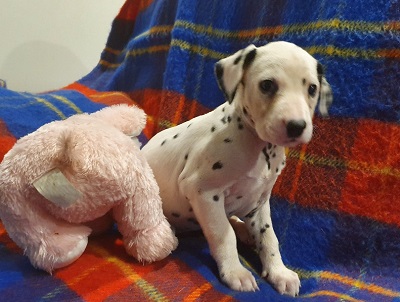 All pups come with an upbringing and feeding guide, vaccination certificate, microchipped, pedigree papers and have been BAER hearing tested. We also offer FREE advice for the life of the dog on anything you may need help on in bringing up or looking after the pup.
Dont forget to look over our health notes page on this website as the more information you have on the breed the better.
No matter where you live in Australia we can arrange for a pup to be transported to you after sale.
Additionally a link to a good site that lists how to bring up a puppy is shown here for you to use whilst you wait for the pup to arrive :-
Should you be interested in a pup please let us know and we can put you on our waiting list (if now is not the time for your ) or we can provide you with more information on the breed.